Toorak Times offers members the site's free unlimited hosting for your personal Blogs
Personal - Your own Blog that can be set Personal or Private
Personalise your Blog - Many features to enhance your experience
Topic - Add your Blog to a site Blog directory
Business - Use your Blog Pages to Promote your Business
Monetise - We offer 100% of your own affliate advertising in your Blog Sidebar## advertisements
​
Fast Start
vBulletin Blog makes it simple for community members to create their own space within the community. Getting started is as simple as posting the first message (using the same familiar vBulletin editor). There is no lengthy setup process - blog owners are free to personalise their blog at any time by defining a title and a description that will appear at the top of every blog post.




Fully Featured


It is a feature-rich blog application, with support for fully formatted WYSIWYG posts, attachments, comments, trackbacks and pingbacks, draftposts and categories, as well as seamless integration with the overall vBulletin system.




Blog Home Page


Available via a single click from any vBulletin page, the blog home page aggregates activity from all member blogs into a single page – with information about the most recent and highest rated blog posts, recent comments, a featured blog post (selected by the administrator or at random), full support for browsing posts by date and overall blogging statistics.



Syndication and Subscriptions


Site wide and per-blog RSS feeds allow syndication to external readers, and full support for vBulletin subscriptions enables users to join their favorite blogs and receive regular email updates.



Profile Support


Member blogs are integrated with the vBulletin profile system – profile information is displayed alongside blog posts, and existing profile pages are enhanced with information about blog activity.



Blog Control Panel


The Blog Control Panel empowers members to control every aspect of their blogs, from permission controls (who has access to view and comment on the blog), to full management of blog categories, draft posts, trackbacks/pingbacks and subscriptions. Blog owners also have the ability to moderate comments on their own blog.


<font size="2">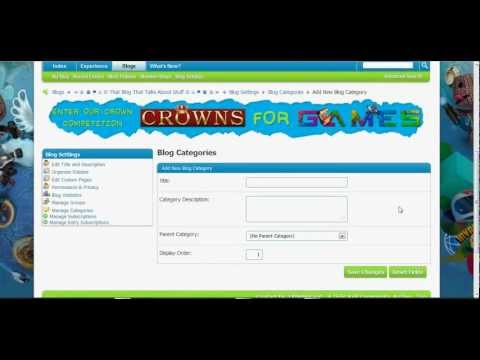 Full Control


Integration with the vBulletin usergroups permission system allows site owners to regulate which users are able to create blogs, and enhancements to the vBulletin admin control panel give administrators total control over the whole system.



Fully Customizable


Blog utilises the powerful vBulletin templating system, and will automatically inherit styles and color-schemes from the forums, for total out-the-box integration.
Organize Sidebar
This setting allows you to add 5 new Personal Blog sidebar widgets for your affiliate advertising or anything you wish to create, advertisements for your business, favourite charities links, a Google Plug In. This is all created through the
WYSYWYG editor
with text that can be edited, pics or bannerheads added (
no html - Assistance can be found here .........
) , videos and a Grid Box function that will allow you to build a basic layout.
Edit Title and Description
E
dit the title and description for your Blog as displayed to visitors.
Edit Custom Pages
This setting in your Blogs allows you to add 5 new page links to your Blog. This is all created through the WYSYWYG editor with text that can be edited, pics or bannerheads added (no html), videos and a Grid Box function that will allow you to build a basic layout.

#
5 extra Pages
and
5 extra
Sidebar Widgets

For your personal
Blog
that can all be created with the
WYSIWYG
editor functions in every posting opportunity...those with any web development skills should love this option to fully redesign their personal look but the native site skins (
Style Chooser
) will allow them to use the native look adequately.
Registered Members

(
Members who have just joined up
) can now enable their personal
Blog
space.

Contributors

(
Feature Writers
) are
Members
that have their
Permissions
within the
Publishing Suite
increased to allow upgrading their stories to the Featured Sections.



Merchants


(Members who have arranged commercial agreements with the Publisher) apply here:- sales@tooraktimes.com.au
To start, please look in your Profile and the bottom of your left hand sidebar you should see Blog link, click and a number of options become available to you.
---
Toorak Times will provide a more developed Blog User Guide shortly, the basic Registered Member's Blogs though allow you a great array of options including:-


Explanations as to how to redesign your personal Blogs will be provided in the future but members wanting help can contact Editor through site this channel and we will run you through it if you will help explain to others how it goes. Please just ask.

Word of Mouth is best and empowered members would be encouraged to share.
---
Publishing
to Front Page

The site owner reserves the right to publish or authorise publishing to the Front Page Sections and it's Categories.

Any contributions deemed worthy of news or interesting media rich content could be used in those sections. As best as possible these articles will be placed in the appropriate Section. If a new Section is required it is a simple task and can be handled quickly.
Registered Members who would like their own
Contributor'sBlog
and/or also wish contribute to
Topics, Reviews
or
Sections
can do so easily we highly encourage it.

Apply here: editor@tooraktimes.com.au

Create your own Channel!

Toorak Times offers many members, especially

Writers, Poets, Photographers, Videographers, Streamers etc.

a many faceted way of promoting the their interests.


Vodcasting




Vodcasting

is the predicted future of the Internet Magazine/Newspaper and current hard copy formats cannot keep up with the day to day happenings in our very active Calendar of events. Click the link to understand the potential.

Podcasting is also native to the site in the Forums.

Members can choose to include a Podcast in their post...but...it is restricted to iTunes accounts.

If members have a UStream, JustinTV or TwitchTV membership we have bbcodes in the WYSIWYG that will allow you to just pop your own channel into the site.
---
>This post will be upgraded as more information and attributes become available<
---
** Please make sure you write your material on your own database first. Although we have saving of articles maximised and the ability to create drafts if you have permission, a sudden site issue or outage could mean hours of your work lost.

For PC users I recommend using
Notepad++
for writing and storing your content as it carries over no extra code generated by Word or
Notepad.