Cirque Africa

Burnley Oval, Swan St, Richmond, Melbourne
Wednesday 24 June 2015 7:30pm – 10:00pm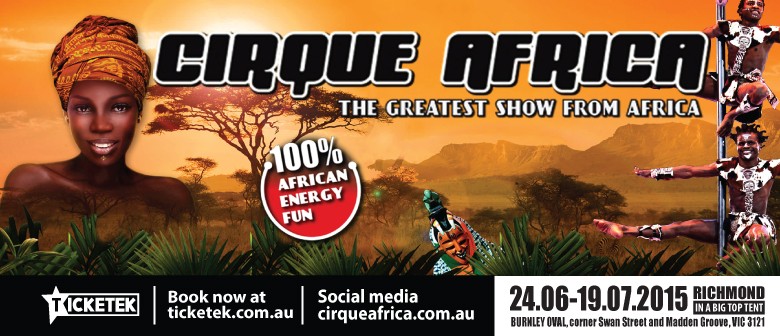 Where:Burnley Oval, Swan St, Richmond, Melbourne
Restrictions:All Ages
Website:
Australia Big Top Premier on 24th June 2015 Burnley Oval, Corner Swan St & Madden Grove, Richmond. Vic 3121

Cirque Africa is a blockbuster based on modern circus acrobatic performances in a festive atmosphere that dramatically transports the audience to discover the other side of Africa in the 2 hours performance
On stage authentic African atmosphere created by the renowned director producer Mr Winston Ruddle
A combination of talents from 38 versatile artistes from 6 different Africans countries


Cirque Africa
With a cast of 38 of Africa's finest professional acrobats such as aerial artists, jugglers, foot jugglers, stilt dancers, contortionists, clowns and more, the heart of Cirque Africa experience is made up of a core group of Tanzanian artists.
Others in the cast represent the rich and diverse circus, musical, and dance cultures of Kenya, Ethiopia, Ghana, Gambia and Zimbabwe. Together, draped in over 200 different colourful African costumes all acts performed with live music played by the 8 piece Cirque
https://video.xx.fbcdn.net/hvideo-xf...mp;oe=556AE43A
About Cirque Africa
Winston Ruddle also know as Papa Africa the father of African Circus is a Zimbabwean born German Citizen the founder, producer, and Director of Cirque Africa .
Winston Ruddle a.k.a Papa Africa
Winston Ruddle AKA papa Africa is also, the first black African anywhere in the world to own, direct and produce a circus show in a big top circus tent. Originally founded in Tanzania, Cirque Africa started as an underground acrobatic school in Kinondoni, Dar es Salaam in 2003, but has since grown to be home to many of Africa's most notable Acrobatic circus acts including the now world renown The Amazing Hakuna Matata Acrobats.
Cirque Africa has trained more than 150 acrobats and dancers 80% of which are Tanzanian most of whom have gone on to have Successful world class careers performing abroad in Circus Mama Africa – Andrea Heller and Mathias Hoffmanns, Afrika Afrika Super Circus, Palazzo Dinner Show, Franco Dragone KDO and THE HOUSE OF DANCING WATER at city of dreams Macua, Hubert Schober and Winston Ruddle Mother Africa Circus in Germany – Alain Parchries Cirkafrika in Paris France amongst various other productions.
Cirque Africa's biggest achievement thus far has been to bringing back Africa greatest entertainment export through investing and rolling out the largest circus production to hit Sub – Saharan Africa
thus far back in Tanzania, where it all started and now for the first time tour all Australian city's town and villages for the next 3 years.
This show, known as Cirque Africa, is made up of 70 Tons of circus equipment, professional sound lighting and stage equipment, elevated seating with a capacity of seating 1100 people, a 12m high
35m diameter fully circus big top tent with a 11m diameter performance stage, 2 foyer tents and a back stage tent measuring 8m by 35 meters and more than 30 world class artists.
As Cirque Africa is a unique form of entertainment that is geared towards family members of all ages ,Cirque Africa is primarily a visual show, and accordingly, language and cultural barriers will not pose a problem in terms of audience marketability.
- No live Animals performing in the show
- All act are backed by live band




WINSTON RUDDLE: "WHAT TO EXPECT FROM CIRQUE AFRICA A 90 minute high energy production

of vibrant talents showcasing the sights and sounds of Africa A combination of talents from 38 versatile artistes from 6 different Africans countries including Ethiopia Kenya Ghana ivory coast and Zimbabwe all backed by a live band playing original music composed especially for the show A new millennium circus of delight full artistic acts such as Hand to Hand , Rolla bola , foot juggling , dish spinning , vertical pole , hand balancing on stacked chairs , human pyramids , contortionists who form mind boggling shapes with their bodies while percussionist beat African rhythms' on drums If you enjoyed Cirque du Soliel before then Cirque Africa is a whole new mesmerizing show that will keep you on the edge of your seats This show combines the millennial repertoire of the Beijing Circus, the technical mastery of the Moscow Circus with the dexterity and joie de vivre of African artists to create a truly wondrous show. Colorful costumes, an invitation to celebrate through dance and songs featuring traditional and contemporary instruments which result in a wondrous show which audiences discover the dark continent."



http://www.cirqueafrica.com.au
https://www.facebook.com/CIRQUEAFRICA
http://info@cirqueafrica.com.ausales...rica@gmail.com