"
O
ne of the most prolific and widely heard bass guitarists, playing on an estimated 10,000 recordings in a career spanning over 50 years
"
(
Wikipedia
)
"The thing that really made me sit up and take notice was the bass lines."
(Paul McCartney talking of Carol Kaye's bass playing on Pet Sounds)

"In the world of bass guitar, Carol Kaye is a legend."
(Guitar World 2016)
"
This woman is, putting it bluntly, damn red hot and fabulous on both guitar and bass guitar
.

"
(This review)

In June of 2016, in my regular weekly review column - Cream of The Crate, I featured an album that was titled "California Creamin", by

Carol K and the Hitmen

.
I purchased this album through Discogs who put me onto a German music retailer - who operates under the name of HOT Wire Recordings.
I purchased this CD under the impression it was legitimate and as such the artist (

Carole Kaye

) would get the royalties all artists rightly expect for their work.
Having reviewed the album I posted a link on

Carol's

Facebook page and was was pleased that she appreciated the review but was incredibly distressed when she told me this was an unauthorised bootleg of her original material and as such she gained no royalties.
It was in fact a pirated copy!
If that was not bad enough, I had mentioned in my original review, in particular in regard to the track "So What" that, "
It is a shame that the recording was a little overloaded for short periods, probably in the transfer from analogue to digital - where digital recordings are unforgiving if they level extend past 0Db, but enough of the technical talk
. . . ."
It seems that this "overload, and indeed other "quirks" on the Hot Records version of her CD were due to their inept copying!
The material on the Hot Cd version, was NOT from original sources. In fact it appears that the source material used by HOT was in fact, from a cassette tape released by

Carol

in the 60's. Great source for a master!
This bootleg CD was obtained through Discogs, which is the on-line organisation that provides a music availability database and it listed the album as being available from Hot Wire Records (Germany).
The long and the short I contacted Discogs and pointed out that this was a pirated copy and that
Carol
, as the copyright owner and distributor of the real album, was being ripped off. They emailed back and indicated that they would remove that CD from their catalog. After a week I noted that this had not occurred.
After a further email was sent to them pointing out the listing was till up, it was removed and in an email from Dicogs they said:
"Hi Rob,
We remove the release from our MP so it can't be bought or sold. We keep the item in our database as this is a release and our database is cataloguing all publicly available releases."
Good on you on you Discogs!
As for Hot Wire recordings their pathetic response was to deny knowing they were selling a pirated copy. Please! They pressed and released the CD. I think it is fair to say they are lying outright. It seems as though piracy of music is becoming the norm in a number of German companies.
All I can do is to urge you, the readers not to buy from HOT, and if you are interested in any of carol's material, to buy directly from her as the odds are almost 100% any copies available from elsewhere are pirated versions..
So let's correct a big mistake and look at the 2004 re-mastered and restored multi-guitar album -
Carol Kaye & The Hit Men - Guitars 1965
.
This album was originally recorded in 1965 at harmony House Studios in Hollywood by carol and fellow musicians and was engineered by Bob Ross,
it has no catalog number, but can be purchased, along with other releases, from
Carol Kaye
through her web site - details at the end of this review.
This album was a recent addition and chose itself for a retro-review. This woman is, putting it bluntly, damn red hot and fabulous on both guitar and bass guitar!
Guitars 1965

has 17 tracks, 16 of them music tracks, and one demonstration/talk track.

There are many noteworthy things about

Carol Kaye

. She is highly gifted, she has been playing across 6 decades, she has played with the most amazing muso's and yet, she is still relatively unknown outside the professional music circles and her immediate fans.
Her birth name is Carol Kaye and she was born on March 24, 1935. Born in Everett, Washington to musician parents, Clyde and Dot Smith, both professionals. She has played and taught guitar professionally since 1949, played bebop jazz guitar in dozens of nightclubs around Los Angeles with top groups, working in Bob Neal's jazz group with Jack Sheldon backing Lenny Bruce, with Teddy Edwards, Billy Higgins and with so many other fine musicians.
She accidentally got into studio work late 1957 by playing on the

Sam Cooke

recordings and other many other records, mostly playing guitar, in her first 5 years of studio work in Hollywood.

A young Carol K
Throughout the 1950s,

Carol Kaye

played bebop jazz guitar in dozens of nightclubs around Los Angeles with many noted bands including, as previously indicated, Bob Neal's jazz group and others.

By her own account, she got into lucrative studio work "accidentally" in late 1957 with Sam Cooke and a few years later, when a bass player failed to show for a session at Capitol Records in Hollywood, she was asked to fill in on what was then often called the Fender bass.

She was a regular member of "

The Wrecking Crew

".
Carol Kaye with The Wrecking Crew [More appropriately known as The Clique)


The Wrecking Crew was a nickname coined by drummer Hal Blaine as recently as the 1990's for a group of studio and session musicians that played anonymously on many records in Los Angeles, California during the 1960s.
However according to

Carol

their real name was "The Clique". The story goes that the name "Wrecking Crew" was given by "someone" she associated with ( hint above), who had a big ego and wouldn't listen to what the others wanted and decided he would make the decision.
In fact the "clique/crew" backed dozens of popular singers and were one of the most successful groups of studio musicians in music history.

Members included Glen Campbell, Barney Kessel, James Burton,Leon Russell, Mac Rebennack (aka Dr. John),Carol Kaye, Jim Keltner, Jack Nitzsche and many many others.
Then in 1963 when a Fender bassist didn't show up for a record date at Capitol Records, she picked up the Fender bass and augmented her busy schedule playing bass. Due to her skill, and her ability to adapt and adopt to needs she grew quickly to be the number one call with record companies, movie & TV film people, commercials, and even industrial films.
She enjoyed working under the direction of Michel LeGrand, Quincy Jones, Elmer Bernstein, Lalo Schifrin, David Rose, David Grusin, Ernie Freeman, Hugo Montenegro, Leonard Rosenman, John Williams, Alfred & Lionel Newman, a real "whose who" of the business.

As well as the numerous hits she recorded for hundreds of recording artists.
Of this period she said, "I was raised by musician-parents and just sort of grew up around music, we were poor, but when music was played, you had a sparkle in your life. And the sparkle is still there years later after all the recording we did, for when you turn on the radio, there are all my fellow musicians. I grew fond of so many, we were all in it together, pulling together for a hit, and loved to groove together. The looks, the feel of the music, the inside quick joke, it was a warm feeling."
In fact Throughout the 1960s, while at the time unknown to the public, Kaye played bass on a substantial number of records that appeared on the

Billboard Hot 100

.

By some estimates, she played on 10,000 recording sessions.

Unbeknown to most people sessions she actually played bass on many of the Beach Boys hit recordings, including "

Help Me, Rhonda

", "

Sloop John B

", and "

California Girls

".
Carol

worked on

Brian Wilson

's

ill-fated but legendary

Smile

project and was present at the "Fire" session in late November 1966 when Wilson reportedly asked the studio musicians to wear toy fire hats.

Kaye's work also appears extensively on well-known television and film soundtracks from the 1960s and early 1970s.
Laying down a bass line at a Beach Boys session
Carol

also played 12-string guitar on

Frank Zappa

's

album

Freak Out

!.

Following on from that she did contribute to a few songs for his next album but declined to continue, saying she found some of the lyrics offensive. Kaye later said Zappa was good-natured and understanding about her qualms and they remained on friendly terms.
Beginning in 1969, she wrote her first of many bass tutoring books, "How To Play The Electric Bass" effectively changing the name of Fender Bass to Electric Bass and began teaching 100s of Electric Bass students, many of them now famous themselves.

That book can be obtained by following this link -

How To Play Electric Bass

.
From the 1960's onward

Carol

has just kept busy. She has stepped out to perform live with the

Hampton Hawes Jazz Trio

in the mid 70s and has given many seminars all over the USA. She is acknowledged as a leader in Electric Bass education.
Her Gear:
1965 - Epiphone Emperor guitar acoustic & electric (with D'Amand pickup); Fender Jazzmaster electric; Dano Bass Guitar; Fender Superb reverb Amp;

2004 - Ibanez RG321 Electric Guitar (with Duncan Humbucker pickup and George Benson Thomastik flat strings); Ibaneze SRX 700 Electric Bass(with Thomastik Jazz Flats)

A selection of her guitar contributions include:
La Bamba - Richie Valens
Zippity Doo Dah - Bob B. Soxx & the Blue Jeans
Let's Dance - Chris Montez
Birds & Bees - Jewel Atkens
The Beat Goes On - Sonny & Cher
Mexican Shuffle - Herb Alpert
Surfin' USA - Beach Boys
Needles & Pins - Cher
Little Ol' Lady From Pasedena - Jan & Dean
Dead Man's Curve - jan & Dean
Surf City - Jan & Dean
Do You Love me? - Isley Brothers
The First two Frank Zappa LP's
plus - recordings with Same Cooke, the O'Jay's, Duane Eddy, Cannonball Adderly, Lou Rawls, Chet baker, Pat Boone, Roger Miller, Neil Diamond, and many more.
So to this album - Guitars 1965.
The Cd comes with a 4 page fold-out, with four sides full of stories from

Carol

, her personal thanks to various artists and a list of personnel on what is the music she recorded in 1965. In her words, "This has some of the finest musical energy on it you'll ever hear. It was cut when our chops were at their height . . . . it literally sparkles with the spirit and excitement of the unparalleled 1960's music performances."
The story she tells, while oh so too short, is good and is the original story and not the "manufactured" one as told in the bootleg/pirate copy.

There a far superior track listing (more detail) than that bootleg/pirate copy.

It is still disappointing that there really is no personal information on her early years and while there is one photo of a young

Carol Kaye

I would have loved more.
So the album has 17 tracks as previously indicated with

Carol

arranging tracks 6, 7, 8, 9 12 and 13.

According to

Carol

tracks 12 and 13 are demo tracks while tracks 14 & 15 are band tracks, which allows the listener to play along.

Track 16 is a gem - it is the original unrestored band track of

Delicado

.

of which tracks 1 to 11 are the originals as she recorded them in 1965. The lead work on tracks 10 and 11 were added by

Carol

in 1996. Tracks 12 and 13 are the original multi-tracks where she played all instruments except for drums.
Track 17 was recorded in 1996 and features

Carol

talking about her studio sessions on guitar and where, she demonstrates a variety of licks and styles.
Track Listing
1. Baia
2. Soft Winds
3. Delicado
4. New Love *
5. The Searchers
6. Ice Cream Rock * (+)
7. Perhaps Perhaps Perhaps (Quizas Quizas Quizas)
8. Tico Tico (+)
9. Caramba Samba (+)
10. So What *
11. It's Been A Long Long Time
12. Delicado (+)
13. Baia (+)
14. So What (Playalong) *
15. It's Been A Long Long Time (Playalong)
16. Delicado (Playalong)
17. Guitar Talk With Carol K.
*Composed by

Carol Kaye

Carol plays all guitars including all lead lines. Earl Palmer plays drums, Rene Hall played bass except on tracks marked (+), where

Carol

played bass. Ray Johnson played keyboards, Bill Green and Jim Horn saxes, Bill Green also played flute, Lew McCreary & Dick Leith played trombones, gary Coleman vibes & percussion and Dwight Carver french horn. There is no record of who provided the backing vocals.

Original Engineer - Bob Ross
Re-mastered and restored by Dino Hermann [2004]
Peter Kaye - artwork
As is my usual process in reviews, I start with track 1 on the basis as the first track heard, it should be the "calling card" of the artist.
Baia
is very much a Latin American track, which I have to admit to having never heard before, but I tracked a copy down. Written by Ary Evangelista Barroso, who was a Brazilian composer, it's little wonder that if you enjoy Latin American music that you would connect immediately with this track as

Carol

interprets it beautifully while still keeping

faithfully to the feel of the original piece.
This is a very laid back track, nicely played and just hinting that there might be some real talent behind the guitar playing.
Baia [Click HERE to play]
Track 3 is

Delicado

, and it is another South American track, and was recorded by Percy Faith in the 1950's and reached the number 1 position on the Billboard charts making it the most successful version.

Other versions are by Stan Kenton, Diana Shore, and, Dr. John.
When you listen, especially if you are a Baby Boomer, you may just find find yourself saying something like - "Hey that's a familiar theme" and the chances are it may have been something you heard your parents play on record when you were a child.

This is a studio version that

Carol

lay down with The Hitmen, and we will return to it when we get to track 12.
Delicado [Click HERE to play]
Track 5 -

The Searchers

, is an out and out surf music track. It features most of the "musical themes" the surf groups of the period used and is really a great track to relive that period.

Hey check out the use of the "outer limits" theme, nicely worked in with all the other noted "surf music" sounds.
As an old surf music fan, this was a joy to listen to.
The Searchers [Click HERE to play]
Ice Cream Rock

- Track 6, is a Carol Kaye original, and it reminded me at first of the guitar playing in a track called Percolator(Twist) by Billy Joe and the Checkmates, which was recorded in the early 1960's.

In many ways this might be seen as a "simplistic" piece of music, but it is very much in the "instrumental" style of the period. Nonetheless there is some damn fine playing hiding behind the "simplicity".

Interestingly according to

Carol

, while a good recording it was, "my least liked cut".
Playing her Epiphone
It is so a 60's track and it shows that Carol certainly is the "master" of her Epiphone.

Ice Cream Rock [Click HERE to play]
However if you are still yet to be convinced that this girl can play, just check out track 8 -

Tico Tico

!

This is another Brazilian track, but

Carol

lays down some very nice jazz lines indeed, absolutely cementing claims made that she was indeed a fine jazz musician as well as master/mistress of so many other stylistic music varieties.

In this track, she keeps that Latin American beat true. I'll tell you what, if you're feet don't move to this track, it means one of two things.

1. You're dead!
2. Your feet are nailed to the ground!
Tico Tico [Click HERE to play]
Track 10 -

So What

, is another

Carol Kaye

original, and from the opening moment we know this is different to anything previously played.

This is funky, this has jazz overtones to a rock beat, this has just a touch of big band sound. I love the sound of the "vibes" as played by Gary Coleman.
Unlike "that" (German) Hot Records pirated version this original version shows no distortion. It looks as though BERT GERECHT, who produced the bootleg version for Hot Wire Records, had no idea about keeping levels below 0Db. Fine for analog Bert, but in the digital world its a "no-no". What Bert's version is, is a great calling card by which he can present his incompetence.


Check out this version.
So What [Click HERE to play]
Tracks 12 and 13 have been discussed previously, and hopefully listened to, but here they are again. These are the originals of both

Delicado

and

Baia

as multitrack recordings with her playing all instruments, with the exception of drums - and this is REALLY where you hear and witness her talent.
I have to say while the original version of

Delicado

(track 3) was good, listening to her in charge of all the instruments (other than drums) is an utter delight.

In a conversation with her about these two tracks she said, "
Those 2 tracks, yes (they) were the demos I laid out and drummer is Earl Palmer on them too.....this was before we did the actual album at Harmony House. I had Rene Hall as an arranger, I arranged some, and H.B. Barnum arranged some of it too
."

I just wish I had been aware of her talents when I were a younger man because it took me until the 1970's to appreciate that there were some fabulous female musicians - and here was

Carol

almost 10 years earlier than my 70s moment of realisation that women really can be shit hot players.
Delicado (demo) [Click HERE to listen]

Baia (demo) [Click HERE to listen]
The following three tracks are as recorded by
Carol and The Hitmen
, without her lead line, so that we, who still like to wrap our hands around the neck of a guitar, get a chance to play along. Nice touch!
Finally we have track 17 -

Talk & Playing Biography

track. This needs no description past saying Carol spends some 21 minutes playing and discussing her playing. It kicks off with her playing the first piece she ever learned, but it is the story that goes along with this and the stories she tells of who influenced her, her styles of playing, it is a both a history lesson and a music lesson.
That "pirated" version was a mess. It was an incomplete copy of this track, it was messy in parts and finished basically in a mid-sentance with

Carol

still talking. Talk about amateur hour during production.
I don't care who you are, and how good a player you are - there is something for everyone, from beginners to the highly skilled in this talk.
Carol playing bass - possibly the greatest female electric bass player ever
What a shame other artists haven't done this - I guess it takes a woman, eh? I'd love to play you the lot but if I do, you may not go out and buy the CD - so here is an edited version.


Talk & Playing Biography (An edited selection of 4 minutes out of the 21 minute track)


[Click HERE to listen]

For a woman who became famous for playing bass in fact
Carol Kaye
​is a consummate guitarist! Hell! she's a consummate artist.


Carol
continues to work, still playing and still teaching and she even offers lessons over skype.
A recent picture
The CD
Guitar 1965
is a rarity as it is the only released
Carol Kaye
recording of this particular genre. However,
Carol
has a couple of "jazz genre" Cd's released and a fine "Bass Cd" titled Picking UP on the E String which features some very, very fine bass playing - a CD I will review in the future. This album has also been pirated, so to out-pirate the pirates, carol has released the tracks on a high quality CD with bonus tracks. If it doesn't come from

Carol's

site - it is an illegal bootleg poor quality copy that was taken from a cassette recording released many years ago.



Carol

also has and a plethora of tutorials and they are worth checking out.
But this albums is a must for devotees of guitar, of the 60's, of female musicians, in fact it is a must for music collectors.
I now recommend you purchase directly from

Carol

- Purchase a legitimate copy by clicking

HERE
I was so peeved by being conned into believing that the CD I purchased from that German source, "California Creamin'", was an authorised "real version that when I discovered it was' bootleg CD and not the real thing, I made a video about it's (necessary) destruction.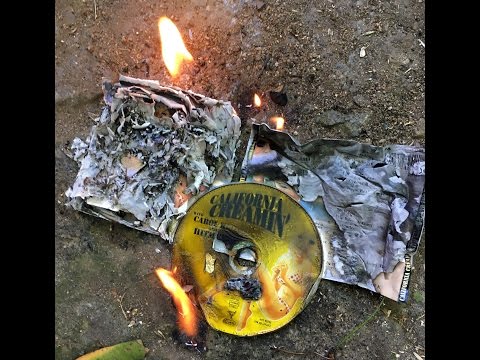 ---
VIDEOS -
Sadly there are no clips of carol as a younger player in the 60's, but there are some excellent clips from later years on Youtube.
Trailer for a proposed documentary on Carol Kaye
Making of Good Vibrations
A short piece from carol's Jazz Workshop
Carol on surprise hit sessions