I was fortunate to be in the audience on Sunday 5th June at Melbourne's Caravan Club (in Oakleigh) for a one-off performance by the legendary Australian group - Ariel.

In fact it was more than a performance of Ariel material it was a comprehensive retrospective of Spectrum, The Indelible Murtceps, and Ariel.

A real bonus was the featuring of Ariel's Glyn Mason. Glyn was in the 1975 lineup of Spectrum, joining after Harvey James had left to join Sherbet and Glyn, who was also a member of the legendary group Chain, has gone on from strength to strength and now plays with the equally iconic, Sam See.

But this really is about Spectrum/Murcepts/Ariel and in particular, the man who was not only responsible for their formation, but led from the front and continues to do so.

I'm talking of course of Michael David Rudd. Mike was born in Christchurch, New Zealand. His first major group was the Chants R&B. The group came to Australia and settled in Melbourne in 1966 but broke up soon afterwards. Rudd then joined The Party Machine led by Ross Wilson and Ross Hannaford, who later formed Daddy Cool.




After Party Machine split up in late 1969, Rudd formed his own group, Spectrum, one of Australia's first progressive rock groups. This also marked the beginning of his long association with bassist Bill Putt. Sadly Bill passed away recently and there was little doubt in my mind, that while his bass playing can be replaced, there was no replacing that "Bill Putt Presence", that laconic stage style, droopy moustache and glint in eye.

He will always be missed.

Now while Ariel is no longer an active band, hence the interest in this show, Spectrum still continues as Mike Rudd with Broc O'Connor (bass), Peter 'Robbo' Robertson (percussion) and Daryl Roberts (keyboards).


Mike Rudd & Broc O'Connor
Peter Robinson & Daryl Roberts



This lineup, along with Glyn Mason, was the basis of the Ariel lineup for this show.

Glyn Mason
The place was absolutely packed and the audience were treated to what really amounted in some ways, to the best of the three groups, Spectrum, Murcepts and Ariel, although as you would expect Ariel's music, with tracks like "Jamaican Farewell", "Disco Dilemma" and the magnificent Glyn Mason song, "It's Only Love" sung by Glyn - which almost stole the show.
But we had it all, the "weird" the wonderful - the memories poured back as the music poured forth and the crowd, which packed the Caravan Club from wall to wall, sang along and danced the afternoon away. Of course the final track was Spectrums mighty hit, "I'll Be Gone", and the crowd loved it.
The encore was Esmerelda, and as Mike and the group revived her tale, the crowd sang out for more!
Don't let anyone tell you that Live Music is dying in Australia. The venues might be shrinking, but the demand for good music is as strong as ever, and with artists of the calibre we witnessed on stage today still playing, it shows that the audiences are there, the music is there, and so a healthy industry is still there. if only we could convince Governments of this.
Were we sated? Absolutely not. We will always want more, and in fact I was speaking with Glyn after the show, and he said they never even got through all the material they had prepared.
So, another comprehensive show soon Mike? How about it?
Finally a comment on the sound at the caravan club. It must be just about one of the best venues for quality sound in Melbourne and I'm not sure who was on the mixer, but he or she did a damn fine job - every instrument was balanced perfectly, there was never any distortion or feedback, and let's face it - no matter how well the music is played, if it doesn't come out of the monitors well, it's pretty much all for nothing. Well done support team!
Incidentally, Mike Rudd's entire back-catalogue was re-released on Spotify and iTunes in August 2015.

The following is a 30minute edited video presentation of the show: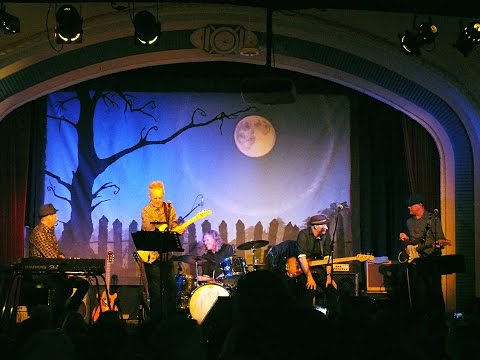 Shots taken at a wonderful afternoons music